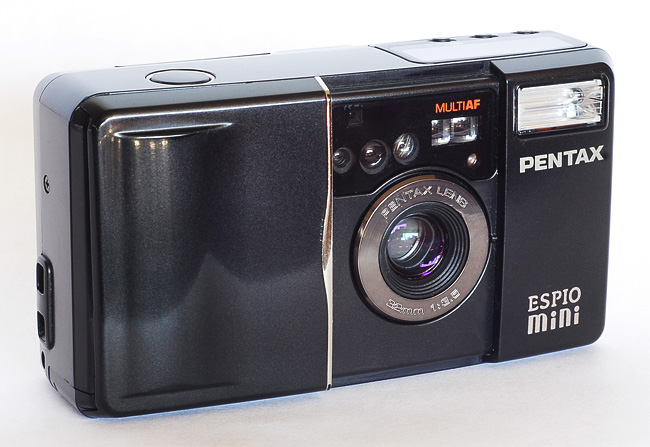 Have you ever had that anxiety dream — you know the one — where you show up for work or school and realize you forgot to wear pants?  Embarrassing!  My version of that dream is arriving at an amazing an place as it's awash in otherworldly light, only to discover that I've forgotten to bring my camera.  Don't laugh — I've actually had that nightmare.  Thankfully, my trusty Pentax Espio Mini prevents such a mishap from occurring in real life.
The Espio is my just-in-case camera.  No matter if I'm just stepping out the door for a minute, I take it along because you just never know when you might see something amazing.  Its diminutive size (41/8× 2¼ × 1½ inches) and minimal weight (195 grams, including battery and film) means it can live unobtrusively in my jacket pocket.
The camera's design owes a great deal to the classic, sliding clam-shell Olympus XA series. Like that legendary camera, opening the Espio's lens cover switches on the camera and primes the shutter. Unlike the XA, however, the Pentax is purely point-and-shoot. It's auto-focus, auto-loading, auto-film advance, auto-ISO, etc. The flash and a "B" (bulb) setting are the only functions the user controls. But the secret to working with a camera like this is to keep its limitations in mind.
I purchased my Espio in 1996 for about $200, after returning from London, where I had grown weary of carrying my SLR and its lenses everywhere. The Espio insinuated itself into my photography and for a period became my go-to travel camera. It remains one of my all time favourites not only for its take-along appeal, but mainly because it delivers wonderfully sharp, accurately exposed photos time after time.
It's the Espio's lens that really distinguishes it from the rest of the the point-and-shoot crowd.  It's a non-zooming, 32mm f/3.5 optic of remarkably high quality.  The focal length works well for a lot of travel and scenic photography where a slightly wide-field lens is often more useful than a standard, normal lens of 50mm focal length.  It also focuses down to a distance of only 1 foot — with viewfinder parallax correction to boot.  That's far closer than the Olympus XAs and a hair better than the highly regarded Olympus Sylus Epic. Like many camera from this era, the Pentax has a "panorama" setting that simply crops the top and bottom off a standard-width 35mm frame.  I rarely use this feature, but there are some who really enjoy it.
One neat trick I discovered while traveling in Italy is that the optical axis of the lens is exactly perpendicular to the camera's back.  So what?  So, when the Espio is placed on a flat, level surface, it's pointed straight up.  This came in very handy when I visited the Pantheon in Rome and wanted to get a shot of the building's famous oculus.  Fortunately, the point directly below the 30-foot-wide opening is marked on the floor.  All I had to do was put turn off the Espio's flash, set the self timer, and lay the camera on the floor to get a perfect shot of this neat feature.  I used this same technique in many cathedrals too. As you can see from the photos below, the result are surprisingly good.
The best photos occur where opportunity and preparation intersect. The Pentax Espio's pocketability means I always have the second half of that equation covered.
(For more Espio photos, check out Postcards From the Caribbean.)
(Did you find this article helpful or interesting? If so, consider using this link
the next time you shop at Amazon.com. Better yet, bookmark it for future use. Thanks to Amazon's associates program, doing so costs you nothing yet helps keep this site up and running. Thanks!)