One of the most common scanning problems is a defect known as image banding. Sometimes its appearance is subtle, sometimes it's not. What's the cause? Consider how a scanner works: a single-line CCD array slowly sweeps across your negative, slide, or print. If parts of the array differ in sensitivity, you get an unevenness in the resulting scan that manifests itself as one or more ruler straight bands.
Banding is most obvious in photos that have large, even-toned areas (such as sky, or water), and is least troublesome in images that have plenty of intricate detail. Negatives that are particularly dense tend to exhibit the problem more than thin ones. Most scanners produce a small amount of banding, but it's usually not noticeable. Where it typically becomes an issue is with older equipment, or in my case,  a scanner that has just exceeded its warranty period.
So how do you get rid of banding? If you're using a dedicated negative/slide scanner (as opposed to a flat-bed model), the first thing to try is dusting off the scan head with a blower bulb or compressed air. It only takes one good-sized piece of dust between the scan head and the light source to produce a pretty prominent line on the image. If that doesn't work, try the solution outlined here:
1. Open your scanning software and select the settings you normally use.
2. Scan your image, but don't do any cropping.  Using Photoshop (or similar image-editing software) you may want to make an initial levels adjustment (Image>Adjustments>Levels, in Photoshop)  just so the image is bright enough to work with.
3. Feed a totally black (fully exposed) piece of film into the scanner.  I usually use a length of film leader for this.
4. Without changing any of your settings, make a scan. Again, don't do any cropping.  The resulting scan will be your "bias" image, which you will later  subtract from your photo.
5. Open your bias scan in Photoshop and adjust the levels so that you just start to get clipping of the highlights.  It's best to do this in two steps.  First move the highlight slider just to the right of  the histogram spike, then  click "Okay." Next, open Levels again and make a second adjustment with the highlight slider.  You'll see that the histogram is more detailed and broader (as shown at right) the second time you open Levels. Leave the mid-tone and shadows sliders alone.
6.  Convert your bias image to "grayscale" (Image>Mode>Grayscale).  Do this regardless of whether or not you're working with a black-and-white or colour image.
Your bias image should be a negative  (not converted to a positive), that is, the bands should generally appear as light hued streaks against a grey background, as illustrated below. You can save this  image and reuse it on future scans done at the same size and resolution.  The bias scan also shows very clearly how even (or not) your scanner's sensitivity is.
7. Copy and paste your bias image into your main image as a new layer.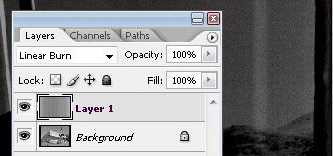 8. Select the bias layer and change the blending mode from "Normal" to "Linear Burn." (Other blending modes, such as "Overlay" or "Soft Light," also work well, so experiment to see what looks best.) Things will generally be pretty ugly at this point, but hang on . . .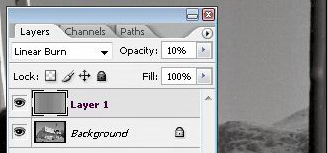 9. Adjust the Opacity slider of the bias layer until the banding disappears. Usually a setting in the range of 5% to 20% is where you'll end up, but it depends on the specific negative. This step will drain a little  contrast out of the image, but you can make the necessary corrections in normal post-processing.
10. Flatten the image layers (Layer>Flatten Image), and proceed to post processing as usual.
The basics of this procedure are pretty straight forward and work for both colour and black-and-white images. You can even use a modified version of this technique for scanned prints — the key thing is make your bias image with the same setting you use for your normal scan.
(Did you find this article helpful? If so, consider using this link
the next time you shop at Amazon.com. Better yet, bookmark it for future use. Thanks to Amazon's associates program, doing so costs you nothing yet helps keep this site up and running. Thanks!)