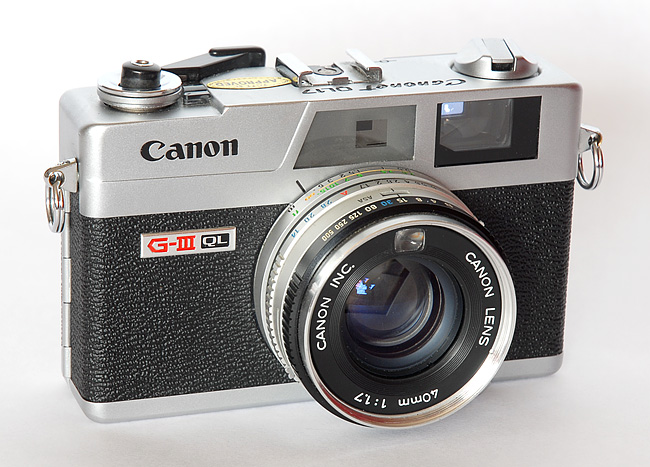 This is a wonderful, compact rangefinder with many appealing attributes, not least of which is a fast 40mm f/1.7 lens. Yet it's a camera I rarely use. Why? Because when I'm in the mood to shoot with this style of camera, I usually reach for my Olympus 35RC. Since both are fixed-lens, shutter-priority rangefinders, comparisons are inevitable.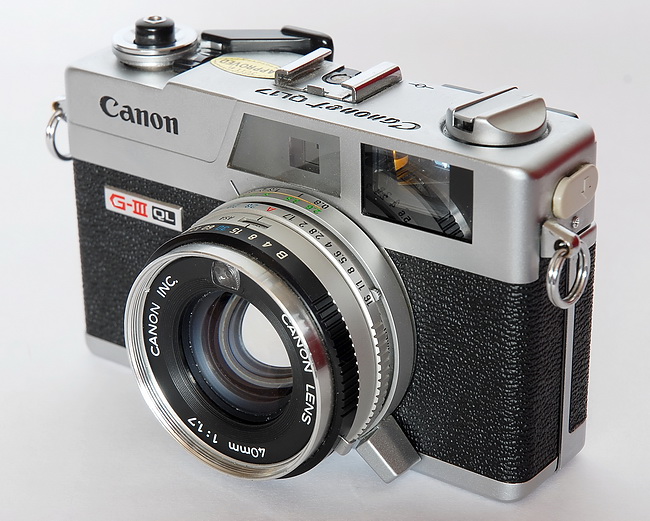 The two cameras share many of the same virtues, but the Olympus is considerably smaller in every dimension and some 175 grams (6 ounces) lighter, which means it can go in a jacket pocket without feeling like you're packing around a brick. Indeed, the Canonet actually has more heft than my Yashica FX-3 SLR equipped with its 50mm lens. In addition, the 35RC shows the shutter speed and aperture in its viewfinder, while the Canon displays only the aperture setting. Not a big deal, but I do like the convenience of being able to see both at a glance.
On the plus side of the ledger, compared with the 35RC, the Canonet's lens is 1½ stop faster and the shutter offers two additional speeds at the slow end (1/8 and 1/4 second). That makes the Canonet overall a more versatile camera, especially in low-light situations.
Another plus for the Canon is that its viewfinder provides automatic parallax correction so that nearby objects can be more accurately framed. And if you use filters, the Canonet makes that easier since it uses a readily available 48mm filter thread, rather than the somewhat oddball 43.5mm size used on the 35RC.
Leaving aside the comparisons though, there are three big reasons why I rate the Canonet a favourite. First, the results I get with it are excellent — the lens provides nice, detailed images. Second, like so many cameras from this era (early 1970s), the Canonet has a reassuringly solid feel to it. Finally, it's simply a lot of fun to use. The fun factor is impossible to quantify, but you always know it when it's missing. And for me at least, when I'm enjoying myself, I tend to take better pictures.
(Did you find this article interesting or helpful? If so, consider using this link
the next time you shop at Amazon.com. Better yet, bookmark it for future use. Thanks to Amazon's associates program, doing so costs you nothing yet helps keep this site up and running. Thanks!)