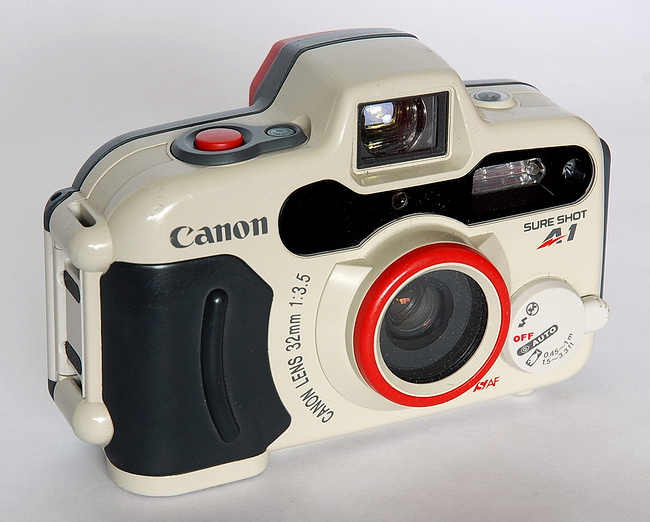 Fred Herzog is a fantastic street photographer justly celebrated for his wonderful day-in-the-life photographs of Vancouver. His shots from the 1950s and 60s are particularly exquisite. Recently, I saw a television documentary on Herzog, and in one scene he was shown walking around downtown with a very odd looking camera — something almost toylike. In a subsequent close-up, you could make out exactly what this famed photographer was shooting with. No, it wasn't a Leica — it was a humble Canon Sure Shot WP-1.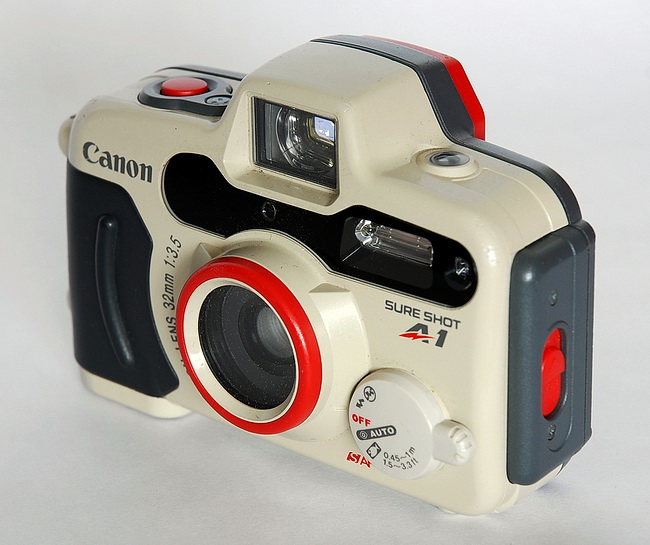 Herzog's camera is a close cousin of the camera I bought after seeing the documentary, a Sure Shot A1. So far as I can tell, the only difference between the two is the red grip on the WP-1. Both are fully automatic models that can be used under water. I think. Despite their nearly identical appearance and construction, the manual for the WP-1 specifically warns "this is not an underwater camera." Wait, what? The manual for the A-1, however, notes that the camera is waterproof to a depth of 5 meters (16.4 feet). So if you get a WP-1 and decide to go diving with it, you do so at your own peril — don't blame me if the camera drowns. That said, I've read many reports from those who claim it is utterly safe to do so and I really can't see why the A1 would be okay, but not the WP-1.
The waterproofing of both cameras depends on the health of the gaskets that seal the film door and battery compartment. The instructions go into considerable detail about how to clean the gaskets and ensure that they are working properly. This is important information if you do decide to take the camera with you when you go snorkeling. I, however, am mostly content to know it can withstand a heavy downpour, which is a photographic situation I encounter with some regularly here in Victoria.
Waterproofing aside, what makes this camera a favourite? Three things mainly. First, its utter simplicity — it's purely point-and-shoot. There's nothing to think about but the composition. The only feature you control is the flash, which you can leave in automatic, switch off completely, or set for fill flash. The second thing I like about the camera is that it's rugged. It really does look like it could survive being dropped onto concrete from a considerable height. Last, and most importantly, the A1 has a sharp, 32mm f/3.5 lens. That's a nice focal length for general use and the photos I've taken with the camera have all come out well focused and perfectly exposed.
As for niggles and flaws, the A1 does have a few, just like every camera in my collection. Most surprisingly, there is no provision for mid-roll rewind. This is puzzling in light of the camera's intended use. Let's face it, you're not going to put a new roll of film in while you're underwater. So what are you to do if you're about to go snorkeling and there are, say, only five pictures left in the roll? Go under hoping that you don't have many photo opportunities? You're basically forced to burn off the remaining photos with pictures of you and your buddies. I like mid-roll rewind because I can usually finesse the procedure so that I can re-load the film again later and finish off the roll.
Another feature I'm not in love with is the viewfinder. It's optically so-so and in some lighting conditions the frame lines become difficult to see. I also wish that the film counter was a little more precise and easy to read. It's really difficult to tell exactly where you are in a roll to within three frames. Not a big deal, but slightly annoying.
Finally, it would be handy to be able to change the ISO setting — my favourite way to invoke exposure compensation with these types of cameras. Sadly, the A1 is DX only and, as such, sets the ISO automatically.
Although the A1 is a rugged, all-weather camera, it is well suited to day-to-day street photography. Thanks to its automatic features, you can get a shot off quickly, and its appearance makes it well suited to photographing strangers. It's a disarmingly Fisher-Price-like piece of gear that's a lot less intimidating to have pointed at you than a massive, black DSLR. I suspect that's one reason why Herzog uses it.
As the photos below show, the Sure Shot A1 is capable of terrific results. Its rugged build quality and waterproofing make it an excellent choice for inclement weather or other situations in which dust and moisture might put an ordinary camera in peril. And hey, if it's good enough for Fred Herzog, it's good enough for me.
(Did you find this article interesting or helpful? If so, consider using this link
the next time you shop at Amazon.com. Better yet, bookmark it for future use. Thanks to Amazon's associates program, doing so costs you nothing yet helps keep this site up and running. Thanks!)