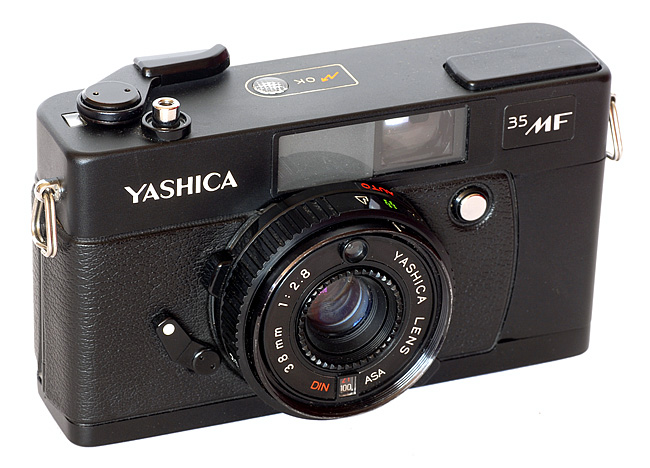 I have dozens of cameras in my collection. Some are simple point-and-shoot models, there's a slew of fixed-lens rangefinders, a few medium-format folders and TLRs, a couple of half-frame oldies in the mix, and I have several complete 35mm SLR systems. Yet all this gear has one thing in common: I've been able to learn a great deal about it on the internet with a quick Google search. Indeed, these days, it's rare to find a camera that doesn't have devoted following and its own Flickr group. However, I recently acquired a Yashica 35MF — a camera that seems to be virtually unknown.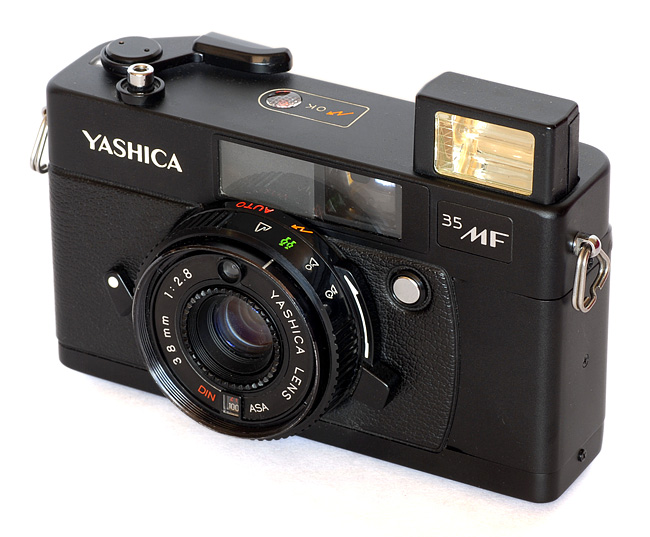 Once I got the Yashica home from the thrift store where I'd purchased it, I did some on-line research but largely came up empty handed. One Japanese site notes the 35MF was released in 1976 as a successor to the much-loved Electro series, though it seems to have very little in common with that model. The 35MF is a fixed lens, fully automatic, scale-focus camera with a built in pop-up flash. A needle inside the viewfinder displays the aperture setting (ranging from f/2.8 to f/16), but does not indicated the shutter speed. To learn more about it, I had to plunk down a few dollars (more than I paid for the camera itself) on an instruction booklet from KEH.
The manual cleared up a couple of specs, about which information on the web was absent, vague, or contradictory. The 35MF's shutter runs from 1/60 to 1/250 second, yielding a 7-stop range. The meter requires a 1.35 volt mercury cell, though in my testing I found a regular 1.5 volt battery works just fine. (Some cameras seem more sensitive to voltage variations than others, and this particular Yashica appears to be very tolerant.) Certainly if you're shooting print film, there's little to worry about. The camera's 38mm lens focuses from 1 meter (3.2 feet) to infinity. And in spite of what I read on the internet, it's not a rangefinder — it's zone focus all the way on this one. Finally, the ASA dial allows settings from 25 to 500, which is reasonable given the camera's shutter speeds and aperture range.
If the specifications make this sound like a pretty unremarkable camera, that's because on paper it largely is. However, there are three features that make the 35MF a favourite. First, and most importantly, its 38mm f/2.8, 4-element lens is remarkably good. The photos I've taken with the camera have been sharp with minimal vignetting. Second, as simple as the CdS exposure system is, it seems to work well. I haven't shot slide film with this camera yet, but so far all the negatives have come out well exposed. Third, I really like how the 35MF feels in the hand. Some of that results from its 490-gram (16-ounce) heft, which partly comes from the pair of AA batteries used to power its internal flash. Speaking of which . . .
The flash is actually quite useful, if not tremendously powerful. With ISO 100 film, its effective range is only 1.5 meters (5 feet), but that's fine for snapshots of pets and friends. The aperture automatically adjusts for the correct flash exposure based on the focus-distance setting. More importantly though is that the flash works for daylight fill, which I use quite often. Oddly, activating the flash requires two hands — one to push in the "pop-up release" (the silver button on the front of the camera), the other to rotate the pop-up lever, located on a ring at the base of the lens. This is awkward and seems unnecessarily complicated — as though the camera's designers felt it would be catastrophic if you accidently fired the flash without meaning to. With fresh batteries, the flash is ready to go in a second or two, while its state of charge is indicated in the viewfinder and by the orange "OK" light on the top of the camera.
To be completely honest, I bought the 35MF mostly because I liked the way it looks. There's a certain Leicaesque je ne sais quoi about it that I find appealing. The rewind crank is located on the underside of the camera, which helps give the top plate a nice, uncluttered appearance. While I wouldn't necessarily recommend one as your only camera, it is a capable machine that works nicely for street photography and snapshots. It's both quick and easy to use (notwithstanding the flash) — and I can think of lots of cameras that aren't. If you don't mind its largely automatic operation, you can get a lot of good photography done with it. And there's no denying that the 35MF will help you stand apart from the rest of the Yashica crowd, all reflexively clutching their Electros. Which reminds me, I must give my Electro a Favourite Camera write up soon . . .
(Did you find this article interesting or helpful? If so, consider using this link
the next time you shop at Amazon.com. Better yet, bookmark it for future use. Thanks to Amazon's associates program, doing so costs you nothing yet helps keep this site up and running. Thanks!)