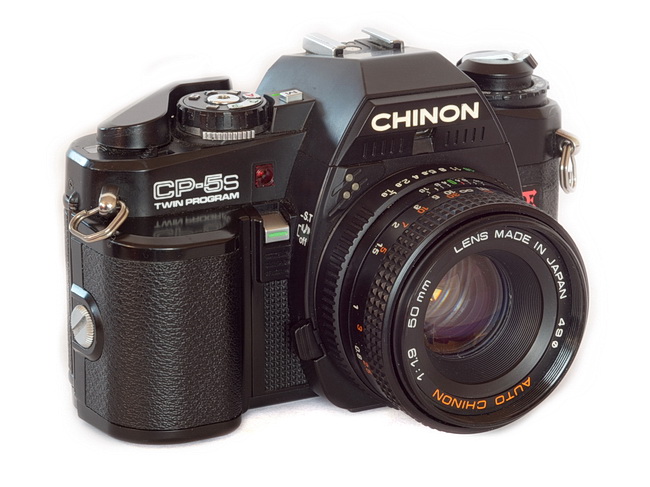 I have to admit I took a flier on this one. When I found a Chinon CP-5s in a local thrift shop, I couldn't get it to fire, so I had no idea whether or not it worked. And, I knew next to nothing about Chinon cameras.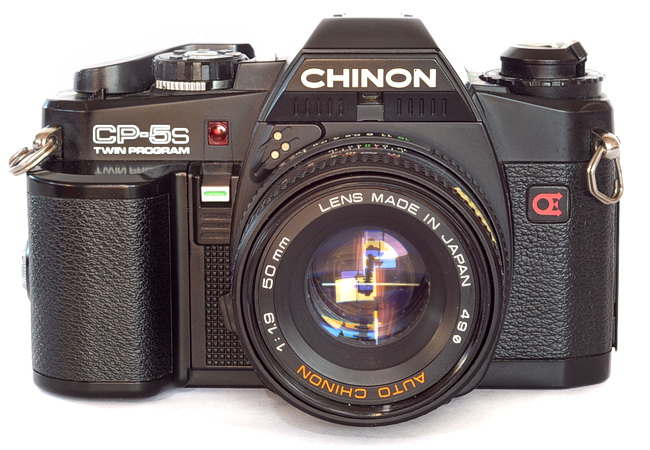 Certainly, Chinon is one of the more obscure brands out there. No one ever says, hey, if you're looking to get into film photography, go out and get yourself a Chinon. No one says that. Yet, after much deliberating, I decided to take a chance on it. If I'm completely honest, there were three not very good reasons. First, it's black. I like black cameras. Second, I vaguely recalled that Chinons use Pentax K-mount lenses, which I had quite a few of. Third, it was $20 including a 50mm f/1.9 Chinon lens. Hard to pass up a deal like that.
Once I got the camera home, I did a little research and discovered that it won't fire without power and, unusually, the necessary power is supplied by a trio of AAA batteries tucked away inside the hand grip. So, if you happen upon one of these and it's missing the hand grip, just keep walking. Of course, once I got the grip off the camera, I was confronted with contacts had been corroded by leaky batteries. Big surprise. If you find it in a thrift shop and it uses batteries, dollars to doughnuts its battery compartment will be coated with battery crud. It's an immutable law of the universe. Fortunately, it's nothing a little light work with sandpaper won't fix. Now that I've now run a few rolls of film through the Chinon I can report that it not only works, but works very well indeed.
There are quite a few different Chinon SLR models out there, and to make matters more confusing, they apparently manufactured some cameras under different brand names, such as Sears, GAF, and Argus, to name three. My particular Chinon is a CP-5s. Its big selling feature was that it has not one, but two program modes. Cameras equipped with a program (P) mode set both the aperture and shutter speed according to a predetermined "program." In the Chinon, P1 is for "fast moving objects," (as the manual puts it) and P2 for "slow moving objects." In other words, P1 works with fast shutter speeds and keeps the lens as wide open as possible, while P2 opts for slower shutter speeds and smaller lens apertures, resulting in greater depth of field. If you like having to only focus your camera, program mode is for you. I can see how having two might prove helpful. As for me, I use the camera almost exclusively in aperture priority (A) mode.
The CP-5s has another uncommon feature that is actually very useful. With the flip of switch, I can choose between centre-weighted average, and spot metering. The spot meter reads only the split-image and microprism part of the focusing screen. That's handy especially in situations where the subject is strongly backlit. There is also a "spot-average" metering mode that allows you to combine both methods, but the implementation is complicated and clumsy. Just reading about it made my brain hurt. You can also store the meter reading, which really just accomplishes the same thing that other cameras manage with a shutter half-press. Here again with the Chinon, it's a bit clumsy to use since it requires you to press two buttons simultaneously, then release one while continuing to hold the other down.
The CP-5s mode dial has a number of additional positions (besides A, P1 and P2). "M" is manual mode. Like similar cameras (the Pentax ME Super, for example), this is a sort-of manual feature — you press a little "M" button to cycle through the available shutter speeds until you get to the one that matches the meter reading. It works in a pinch, but it can be tedious since the shutter setting increments in only one direction, unless you half-push the shutter button while pressing the little M button, which causes the shutter speeds to increment in the other direction. It's awkward, but does work. The "X" on the mode dial is for flash sync at 1/100 second (though the flash also works in A or M modes), while "B" is for bulb. "L" locks the shutter release to prevent accidental misfires. I actually use this from time to time. The camera also has a little switch near the frame-counter window which allows for double exposures if you're in a Lomographic frame of mind.
Overall, the Chinon is a fine, functional camera that I shoot with often. The results I get with it are right up there with any of my other 35mm SLRs. It's generally easy to use (with the exceptions noted) and handles well, but there are a couple of minor knocks against it.
First, it's probably not the most robustly built camera out there. Although it feels solid enough and has a metal chassis, the top and bottom plates are plastic. However, I could be wrong about its durability. Chinon adverts for this model from the mid-'80s touted its robustness (claiming "hardened steel transport gears" and a "ball-bearing main shaft") and stated the camera is "so rugged we can offer a 2-year warranty." Clearly at least Chinon thought highly of this model.
The second knock I have against it is that, the viewfinder is a little dimmer than in my Pentax cameras. It's not a huge difference, but I do notice it when I'm using my 50mm macro lens, which works at f/4 even when fully open. Neither of these things get in the way of taking pictures though.
The biggest plus for the CP-5s is that it allows me to use my Pentax K-mount lenses, which I like. So why do I use the Chinon instead of one of the Pentax cameras in my collection? Three reasons. First, it feels more comfortable in the hand, thanks to its battery grip. Second, I like that I'm able to see the aperture setting in the viewfinder — a feature my Pentax SLRs lack. And, lastly, because the Chinon is black. As I said before, I like that.
Did you find this article interesting or helpful? If so, consider using this link
the next time you shop at Amazon.com. Better yet, bookmark it for future use. Thanks to Amazon's associates program, doing so costs you nothing yet helps keep this site up and running.
Thanks!