"I can't think of a worse choice for a travel camera." That's a direct quote from an internet discussion about the Hasselblad. I won't identify the poster since it's not really relevant — the point is that what he/she is saying is, more or less, accepted as conventional wisdom. But having recently completed a trip to Iceland and another to Oregon with a Hasselblad 503cx as my main camera, I have to say that statement doesn't reflect my experiences.
It's important to recognize that everyone has a different take on what the ideal travel camera looks like. For a lot of photographers, "travel camera" equals "small and light." I get that. But for me, it's not about the camera being the smallest and lightest available — it's a matter of it being small enough and light enough for where I'll be going. In other words, there's no doubt that something like an Olympus Stylus Epic is easier to travel with — it slips unobtrusively into a pocket — but for my Iceland trip, the Hasselblad was easy enough since I was driving most places and hiking relatively short distances. Your mileage (and means of transport) may vary.
The Hasselblad can be quite a beast, or surprisingly nimble, depending on how it's configured. That's one of its virtues. My "minimalist," lightweight Hasselblad rig consists of the camera body, one film back, the 80mm f/2.8 Planar lens, and waste-level finder. Total weight = 1.6 kilograms (3.5 pounds), including strap and film. Sure, that's more than most cameras in my collection, but it's still not a terrible burden. Frankly, if I can't handle that kind of weight on a short hike, I probably shouldn't be out and about in the first place.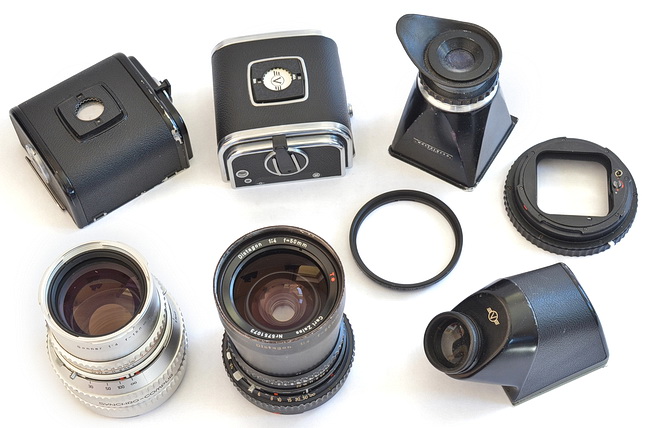 You'll note that my minimalist rig doesn't include a tripod, which means I have to be able to use the camera hand held. A couple of tricks that help make that work. First, I typically shoot ISO 400 film. The great thing about medium format is even fast film still looks essentially grain free. Second, I use a neck strap. I let the strap go taut and brace the rear of the camera against my chest as I make the exposure. This is where the waist-level finder is ideal. It's amazing how steady your can hold a camera if you don't have to bring it up to your eye.
So why not use some other lighter medium-format camera, such as a TLR or a folder like the Agfa Isolette II? While those are good options, I find they lack versatility. I want to be able to switch between black-and-white and colour films, which I can with the Hasselblad by adding an extra film back. And, I also want the option of shooting with a wide-angle lens. These are capabilities the TLR and Agfa lack. Yes, the 50mm Distagon lens and film back add weight and bulk, but you know what? On my latest Iceland trip, it was never a problem to carry them around, but I certainly would have missed the capabilities the extra gear provide had I left them at home.
(Click here to see a black-and-white version of the above photo.)
But by far the most compelling argument in favour of the Hasselblad as a travel camera is performance. The format alone gives a quality boost, but add in the superb performance of the Hasselblad's Zeiss optics and you're in another league altogether. I'm willing to carry a little extra weight for optimal results. It's a trade off I'm prepared to make. And I figure if I'm going to travel all the way to Iceland, why not go for the best image quality I can get? A camera that lets me to bring home high-quality photos of fascinating place is my definition of a travel camera.
(Did you find this article interesting or helpful? If so, consider using this link
the next time you shop at Amazon.com. Better yet, bookmark it for future use. Thanks to Amazon's associates program, doing so costs you nothing yet helps keep this site up and running. Thanks!)