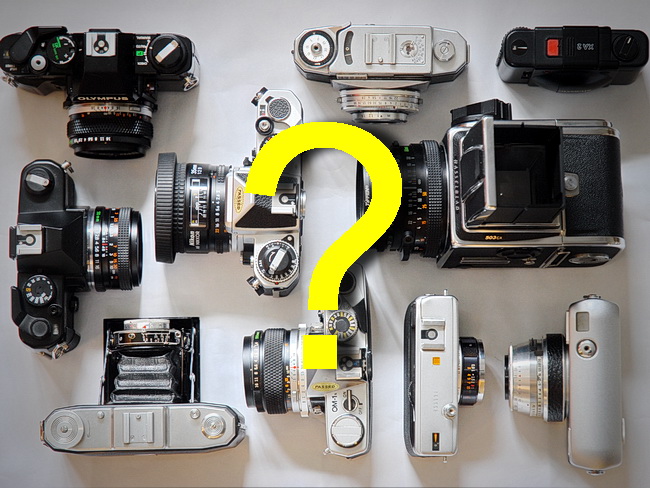 I have a lot of cameras to choose from. More often than not, when I finish off a roll of film, I pick a different camera for the next roll. I know that's not how you're supposed to do things, but for me, each camera has its own characteristics that subtly changes the way I approach taking pictures. I like that. It helps keep me inspired. But when I look back on 2015, there were a few cameras that had more film run through them than the others. My camera of the year is simply the one I took the most photos with. And the winner for 2015 is . . .
The Pentax Espio 120SW (IQZoom 120SW). Is it the best camera I own? Not by a long shot. But I did do a lot a travel this year and the 120SW has many attributes that make it a fine companion. It easily slips into a pocket and its 28mm-to-120mm zoom lens is very versatile. Funnily enough, the 120SW was never my "prime" camera — it was always the one I used for quick, documentary type shots. And as I made my way through Oregon and Iceland this year, there seemed to be quite a few of those kinds of pictures available.
You can read my full review of the Pentax Espio 120SW here.
This year's first runner up is my trusty Hasselblad 503cx. Even though I took fewer photos with it than the 120SW, most of the time it served as my "main" photographic tool. When I was serious about getting a good shot, it was the Hasselblad that got the call. In fact, considering that I'm much more parsimonious with medium-format film, it's surprising to me that the Hasselblad is responsible for so many shots this year.
You can read more about the Hasselblad 503cx here.
Second runner up is another favourite, the Olympus 35RC. It's just a great little camera that nicely bridges the gap between image quality and portability. It always delivers great results. I used it a lot for shots close to home — it served ably as my main every day camera.
Read my full review of the Olympus 35RC here.
(Did you find this article interesting or helpful? If so, consider using this link
the next time you shop at Amazon.com. Better yet, bookmark it for future use. Thanks to Amazon's associates program, doing so costs you nothing yet helps keep this site up and running. Thanks!)