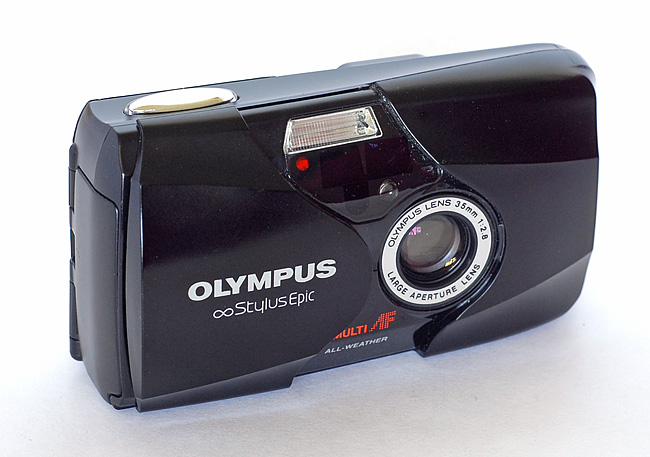 Most photographers have at least two cameras – one for when they set out specifically to take pictures, and another for "just in case" situations. It's handy to have something small enough to slip into your pocket if you're just dashing off to the corner stor for a carton of milk. A compact camera is also the ideal accessory for a medium-format setup or a full-on 35mm SLR rig. And since I mainly shoot black-and-white, I like to keep a second, small camera loaded with colour film for those occaisions when the urge strikes. But even if it's just a sometimes camera, I don't want to sacrifice quality for convenience. And that's why the Olympus Stylus Epic is a firm favourite.
The Stylus Epic is a fully automatic point-and-shoot camera fitted with a 35mm f/2.8 lens. But if you go hunting for one, you're going to encounter a few variations. (To make matters even more confusing, the same camera was sold in some markets as the Olympus mju.) The two desirable models are the Stylus Epic and the Stylus Epic "dlx," which is the same camera, but with a date stamp option (which I personally never use) and a "panorama" mode. Don't get too excited about that feature though — it simply masks the top and bottom off a standard-width 35mm frame, so again, not something that's terribly useful. What is genuinely useful though is that the Epic is "weatherproof," meaning, the camera can toerate getting a little wet, though you shouldn't go swimming with it.
In addition to the regular Stylus Epic and the dlx version, there are a number of zoom models as well as the original (1991) Stylus. That camera has a larger, boxier body, a slightly less versitile f/3.5 lens, and isn't weatherproof. You might as well stick with the Stylus Epic though since they're easy to come by and are reupted to be the best of them all. The fact that the Epic was introduced in 1997 means that a given sample is more likely to be in good working order than one of its older siblings.
Before I get into its quirks and "issues," let me say up front that the Stylus Epic is a real gem — arguably the finest camera of its type ever made. If a pocketable point-and-shoot is something that works for you, this one deserves to be on your short list along with the Pentax Espio Mini I reviewed here. The pictures I've taken with the Stylus Epic have been wonderfully sharp and nicely exposed. It's solidly built and as small as one could wish for.
One unusual and noteworthy feature is the camera's "spot mode." This is engaged by pressing the self-timer and flash-mode buttons simultaneously. You aim the camera at the focus/metering point in your composition, half-press the shutter to lock in exposure and focus, then re-frame and fire. Normally (in non-spot mode) a half-press only locks in focus. This feature works nicely, but unfortunately the camera reverts back to non-spot mode when you power down. And you'll find you have to use your finger nails to engage the buttons since they are tiny, rubbery, and difficult to work.
Okay, now a couple of minor annoyances. First, the way the camera is programmed to expose, it never stops down past f/11 even in brightly lit scenes. In dimmer light, the camera prefers to open up the lens, rather than shorten exposure times  —  only after  it hits f/2.8 does it start bringing down the exposure speed. As a result, you're shooting at f/2.8 a lot of the time and will be dealing with limited depth of field. This doesn't bother me particularly, but it might affect how you use the camera. If you prize great depth of field for landscope shots, I suspect the Stylus Epic is going to regularly disappoint you.
A second, minor annoyance is that the frame count only appears on the LCD when the camera is powered up. I prefer the continuous display used on the Pentax Espio Mini. But you've gotta know that if I'm picking on the camera for something as trivial as this, it hasn't got a lot of problems.
The camera in my collection that most closely matches the Stylus Epic for features and performance is the aforementioned Pentax Espio Mini. The Stylus Epic has a few advantages over the Pentax. First, its tapered body design makes the Olympus more easily pocketable and feel less bulky, even though its outside dimensions are not terribly different from the Pentax's. The spot meter and fast lens are also pluses for the Olympus. But the two cameras are really far more alike than different, and it's usually a coin toss as to which one I load with film. If you're in the market for a small point-and-shoot that delivers excellent and consistent results, either will do, but you're far more likely to end up with Sylus Epic simply because there are so many more of them around. And that's not a bad thing.
(Did you find this article interesting or helpful? If so, consider using this link
the next time you shop at Amazon.com. Better yet, bookmark it for future use. Thanks to Amazon's associates program, doing so costs you nothing yet helps keep this site up and running. Thanks!)