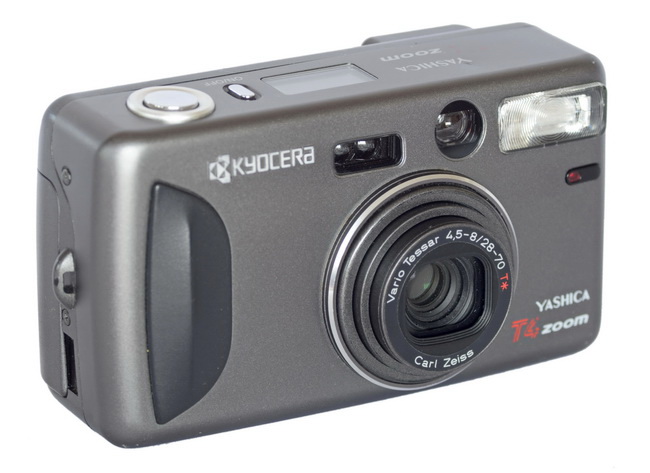 One day while scanning the contents of this web site, I came to a startling realization. I had never written up this camera. I've been using it for so long, and so productively, I just assumed at some point I had. I suppose that alone is a pretty positive endorsement — I've been too busy using it to write about it.
On the surface, the Yashica T4 Zoom is like a lot of point-and-shoot cameras. It's a reasonably compact, fully automatic, DX-code-reading, zoom camera. No doubt, it's exactly because it seems so unremarkable that I was able to purchase it for next to nothing from a thrift store. But dig a little deeper, and it's apparent that the T4 Zoom is far more capable that it might at first appear.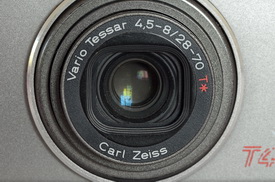 First off, there's the lens. It's a Zeiss "Vario Tessar" (whatever that is) consisting of seven elements in six groups. The zoom goes from 28mm to 70mm. A 2.5× zoom isn't a huge range, but I really like that it starts off at the 28mm end, rather than 35mm or longer, as so many other lenses do. The zoom isn't continuous, however — there are five discreet steps, which I would estimate correspond to focal lengths of 28mm, 40mm, 50mm, 60mm, and 70mm.
Another plus is that the lens has Zeiss T* coatings for better contrast. Best of all, the optics delivers sharp results at all focal lengths. The worst thing about it is that it's slow. The maximum focal ratio is f/4.5 at the wide end, and f/8 at the telephoto end. That's not great in SLR terms, but for a compact zoom, it's pretty good. But if you shoot ISO 100 film, you'll be wishing for more light a lot of the time.
Lens aside, what sets the T4 Zoom apart from so many similar cameras is a host of useful features. Here are the ones I use most often:
Exposure compensation: A dedicated button on the back of the camera cycles through +1.5 stops, -1.5 stops, and no compensation. It's a quick and simple implementation.
Bulb mode: The manual calls this "long-time exposure mode," which is more descriptive, if cumbersome. In this mode, the camera is at infinity focus with the flash off. Push the shutter release to start the exposure, push it again to end it. Naturally, this works best if you use the wireless remote, which I was able to purchase off the internet. Maximum exposure time is 2 minutes.
Infinity focus lock: You can set the camera to infinity focus with the flash off. Very handy for taking pictures through airplane windows or busy foregrounds. The manual refers to this as "landscape mode."
Viewfinder diopter adjustment: Nice to have, and rare in the point-and-shoot world.
Flash modes: All the usual settings including a very good fill flash and flash-off modes.
Also on the plus side of the ledger is a body made of aluminum (the film door is plastic though) and relatively quiet focus and film-advance motors. They make a subdued whirring sound which, while not entirely silent, is relatively discrete. I also like that the frame-counter display is active all the time — not just when the camera is powered up.
Sounds pretty good, right? So what's the catch? Of course, every camera has some shortcomings. I've already mentioned the rather slow optics, but that just comes with the territory with this class of camera. The other significant liability is shutter lag. Even when you half-press for focus lock, the camera takes a moment before it makes the exposure. It's slower in this regard than most of my other point-and-shoots (especially the quick Olympus Stylus Epic). It's bad enough that the Yashica really isn't ideal for candid shots of kids and pets, or for street photography.
Clearly though, for me at least, the benefits outweigh the few negatives. I use this camera a lot. Its generous feature set and useful zoom range make it a fine travelling companion. (See my many recent Iceland shots for example.) Sure, it's not as pocketable as some cameras, but it's certainly no burden either. Unfortunately, the camera is comparatively rare. This is the only sample I've seen in person. It's even less common than the much sought-after Yashica T4. So if you see one in your local thrift shop, it's definitely worth snapping up.
(Did you find this article interesting or helpful? If so, consider using this link
the next time you shop at Amazon.com. Better yet, bookmark it for future use. Thanks to Amazon's associates program, doing so costs you nothing yet helps keep this site up and running. Thanks!)
For more of my camera reviews, click here.