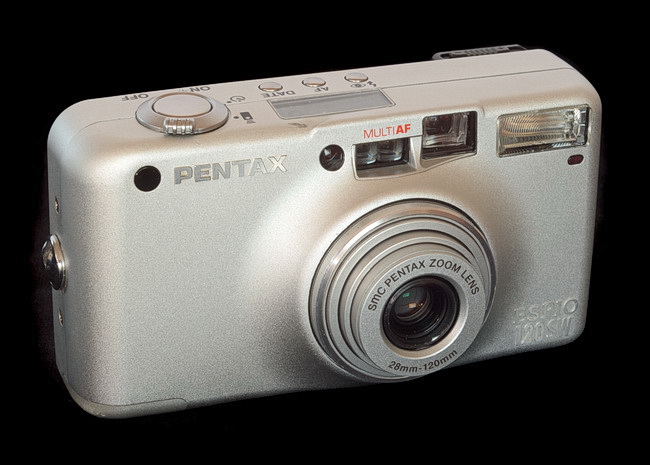 It seems like there are 118,287 different Pentax point-and-shoot cameras bearing the Espio name. Okay, that's a slight a exaggeration, but there are at least 46. Most are completely unremarkable, but there are a few exceptions, including the Espio Mini and Espio 115G I reviewed previously. Which is the best Espio of all? I'd argue that the crowning glory of the entire line is the Espio 120SW. It is, in a word, fantastic.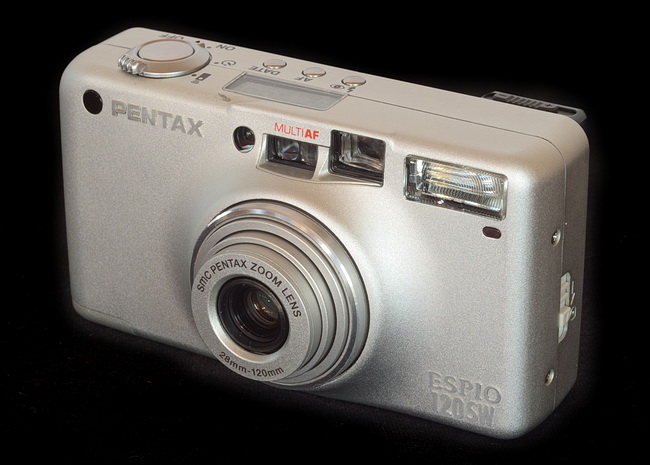 I'm not the only one who thinks the Espio 120SW is a stand out. After all, in 2001 it won the Technical Image Press Association's compact camera of the year award. Its most remarkable feature is an astounding 28mm-to-120mm zoom lens crammed into a tiny body. Measuring 4.4 by 2.3 by 1.6 inches, the camera is only a hair bigger than the fixed lens Espio Mini. Yet thanks to the 120SW's rounded contours, it actually fits into a pocket more easily.
Everything about this camera says quality. It looks pro, feels great in the hand, has an aluminum body (except the film door), and works wonderfully. Best of all, I was able to buy it at a local thrift store for $8. That's the upside of there being so many Espios — it's hard for anyone (especially a busy store clerk) to keep track of which ones are valuable and which aren't.
In addition to its lens and compact dimensions, the Espio 120SW has a couple more tricks up its sleeve. One of its most unusual features is an illuminated LCD. In dim lighting conditions, the LCD screen lights up for about 5 seconds when you first turn the camera on, or when you tap the shutter release. Given that the LCD shows the shot count and camera settings, it's a plus being able to see the display when conditions are getting a bit dim.
Another unusual feature is that the camera doesn't automatically shut down after a set amount of time. It'll stay "on" forever, though after 3 minutes, the zoom lens retracts to the 28mm (fully collapsed) position. I also appreciate the camera's infinity focus lock (handy for shooting through airplane windows), viewfinder diopter adjustment, full-time frame counter, and the fact that its film-advance and rewind motors emit only a subdued whirring sound. The camera is also quick, with minimal shutter lag.
But all that glitters is not photographic gold. If the Espio 120SW shares one significant flaw with other compact zooms, it's a slow lens. The maximum aperture is f/5.6 at 28mm and down to a squinty f/12.8 at the 120mm end of the range. A low-light champion it is not. That said, few zooms are much better. Even the Yashica T4 Zoom that I like so much is only 2/3 stop better, albeit in a much less compact package.
The 120SW has two other knocks against it. First, it's powered by a relatively expensive CR-2 battery that's rated for only 8 rolls of 24-exposure film with the flash used half the time. I can live with that since carrying a spare battery is not a terrible burden, but still, that's not great battery life. Given that the camera is DX only, I wish the 120SW had some kind of exposure-compensation control. It's a curious omission in what is otherwise such a feature-packed camera.
Still, if the 120SW has flaws, it only goes to show that no camera is perfect in every respect. And it's the long list of positives that makes this Espio a favourite. I expect I'll be getting a lot of use out of it.
(Did you find this article interesting or helpful? If so, consider using this link
the next time you shop at Amazon.com. Better yet, bookmark it for future use. Thanks to Amazon's associates program, doing so costs you nothing yet helps keep this site up and running. Thanks!)