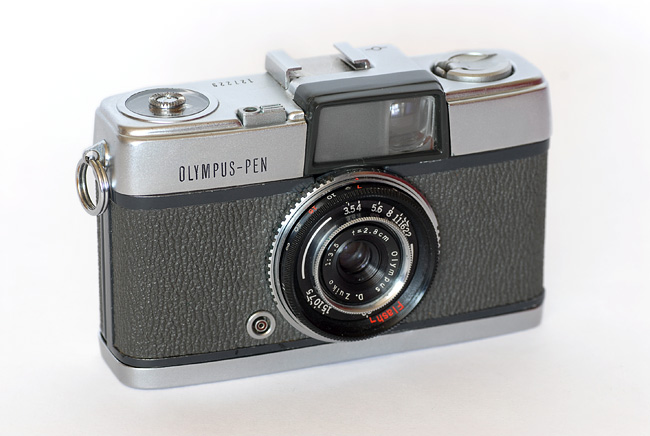 You dream about it, but it never seems to happen. The "dream," of course, is finding a truly rare camera at a bargain price at some out-of-the-way flea market. This dream finally came true for me a few months ago when I stumbled across an Olympus Pen at our little town's annual garage sale. And I didn't even realize my luck until I got the camera home and did some on-line research.
It turns out that my particular Pen is one of the original, original Pens — it's from the first production run of the very first version of the camera. As the story goes, the Pen was the debut effort from designer Yoshihisa Maitani, the same guy who was eventually responsible for just about every important Olympus film camera, including the Pen F, the magnificent OM series of SLRs, and the ultra-compact XAs. He was tasked with coming up with a budget model, but as is typical for cameras of this era, the resulting product was made to a level of quality and ruggedness that we seldom see today even in premium offerings.
The first Pens were manufactured in October 1959, not by Olympus, but by a subcontractor, Sanko Shoji. When sales unexpectedly soared, Olympus took over production the following year, after some 30,000 units were sold. The rarest of the early "single-lug" Pens are those, like mine, made by Sanko Shoji. How can you tell these from the ones made later by Olympus? There are several cosmetic giveaways, as shown in the photos at right.
The Pen is a very simple, very compact, solidly built, half-frame camera that's a real pleasure to use. Although it lacks a light meter and focusing rangefinder, it's still easy to take pictures with. Focusing is by guestimation, and this is where the genius of the lens design becomes apparent. The 4-element lens's focal length is only 28mm, which is the "normal" focal length for the half-frame format. But that focal length also yields a generous depth of field, which makes achieving sharp focus relatively easy even if your distance estimates are slightly off. The maximum aperture is only f/3.5, again, making focusing less stringent.
There are a couple of minor usability issues with this model Pen, as there are with every camera. First, you have to remember to set the frame counter when you load in fresh film. The Pen counts down to zero from whatever number you begin with — 72 for a 36-exposure roll, 48 for a roll of 24. Second, you change the aperture setting (which range from f/3.5 to f/22) by rotating a bezel on the front of the lens. When doing so, you have to exercise a modest amount of care to ensure you don't put a big, greasy fingerprint on the lens. The shutter speeds run from bulb only to 1/200, so you will likely use ISO 100 or 200 film most of the time. Lastly, the Pen lacks a self-timer, so a cable release is necessary for long exposures.
On the plus side, the camera's Copal shutter is very quiet and produces essentially no vibration. Given the lens's focal length, you can safely hand-hold shots at 1/50 and probably even at 1/25, the camera's slowest shutter speed. The other feature I find handy is that the camera focuses down to less than 2 feet. Later models (such as the Pen D) only let you get as close as 2.8 feet. Finally, the original Pen is more compact than some of its siblings. They all have roughly the same body dimensions, but the lens on this model is very low-profile, protruding from the front of the camera by 3/8-inch, making it much easier to slip into your pocket.
It's a rare camera that actually changes the way I approach picture changing, but the Pen is one of those. The camera's normal orientation is "portrait," that is, the long axis of the frame is vertical and the short axis is horizontal. By presenting this as the first option (you have to turn the camera sideways to get a landscape orientation), I find I tend to shoot more "portrait" photos than I normally would — the camera essentially forces me to evaluate that possibility first, even in situations where normally I wouldn't. This is obviously a personal response to the camera, but I'd be surprised if others don't experience the same effect. The half-frame format also means I have plenty of shots in a roll, so I tend to be a little more liberal with the kinds of subjects I take pictures of. Sometimes this gives me a photo that I really love, but might not have bothered with if I was being more careful about burning off frames.
The Pen's main selling feature when it was first introduced was its compact size. It's unquestionably a pocketable camera (that is, if you don't mind carrying 350 grams — 12 ounces — in your pocket), but over time full-frame cameras that are both smaller and lighter came along, including Maitani's own XA series. But that doesn't mean the Pen is not longer a useful camera — far from it.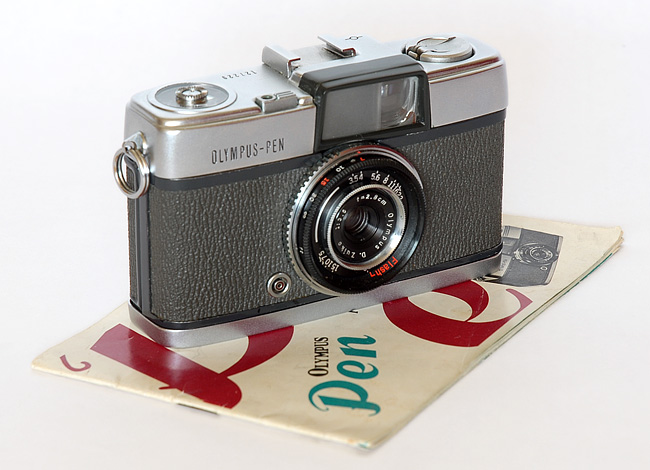 As the photos below show, this little beauty is still capable of great results a half-century after leaving the factory. Indeed, thanks to modern, fine-grained films, the Pen and its half-frame brethren can produce even better photos now than was possible back in the day. A half-frame of 35mm film can make excellent 8×10 prints (I've made a few myself), but if all you're interested in is scanning and posting to Facebook or Flickr, the format still yields way more resolution than you'll ever need. It's ironic that this camera should reach the zenith of its performance more than five decades after it was first produced!
Oh, and because I know someone will ask, I paid $2 for my Pen. And no, it's not for sale. But keep your eyes peeled at local yard sales and flea markets —  you just never know.
(Did you find this article interesting or helpful? If so, consider using this link
the next time you shop at Amazon.com. Better yet, bookmark it for future use. Thanks to Amazon's associates program, doing so costs you nothing yet helps keep this site up and running. Thanks!)